TL;DR - I'm busy trying to actually get something accomplished. (But you should still read this.)
If you've reached this page, then you arrived here via a link contained in an automated text message response.
Lucky you. Because you've found a source of wisdom that might just save your sanity and your soul.
But first, a lengthy quote from Cal Newport's A World Without Email: Reimagining Work in an Age of Communication Overload referencing Leslie Pernow's 2012 book Sleeping with Your Smartphone:
The cycle [of responsiveness] begins with legitimate demands on your time. Perhaps it's 2010, you've just started using a smartphone, and you realize it's now possible to answer client questions that arrive after work hours or respond quickly to colleagues in different time zones. These clients and colleagues now learn that you're available at these new times and begin to send more requests and expect faster responses. Faced with this increased influx, you check your phone more often so you can keep up with the incoming messages. But now the expectations for your availability and responsiveness increase further and you feel pressured to respond even quicker. As Perlow summarizes.

"And thus the cycle spins: teammates, superiors and subordinates continue to make more requests, and conscientious employees accept these marginal increases in demands on their time, while their expectations of each other (and themselves) rise accordingly."

This is a nice example of technological determinism at work. None of these teammates, superiors, and subordinates like the culture of constant connection that this cycle produces. None of them ever suggested it, or made a conscious decision to adopt it.
If you're tired... exhausted... of living a life where you're always expected to respond immediately... where you're always expected to be "on," then you have a choice.
Don't.
Because none of us ever chose to live and work this way. It just sort of happened. We all woke up one day and resigned ourselves to technological determinism.
"Oh... so this is how we work now," we all apparently said sometime in the decade from 2000 to 2010.
Why?
Huh?
Before you even begin to attempt to answer that question... especially as an attempt to justify or positively spin the current state of work...
Don't.
I don't want to listen to your argument. I will block you. I will ban you. I will take every step to remove you from my life.
I'm not bothering you. And I'm not allowing you to bother me while I'm away from the unfortunately yet necessary idiotic box that is my smartphone.
Go do something else.
Read a book. Take a walk. Play with a child. Cook a nice meal.
Do anything except stare at that screen and mindlessly scroll until your brain goes numb.
I'll get back to you when I can.
It's not that you're not important. You are.
Right now, I'm singularly focused on something else.
Thanks!
Have a great morning / afternoon / evening/ etc.!
Paul
P.S. Buy Cal's book and read it.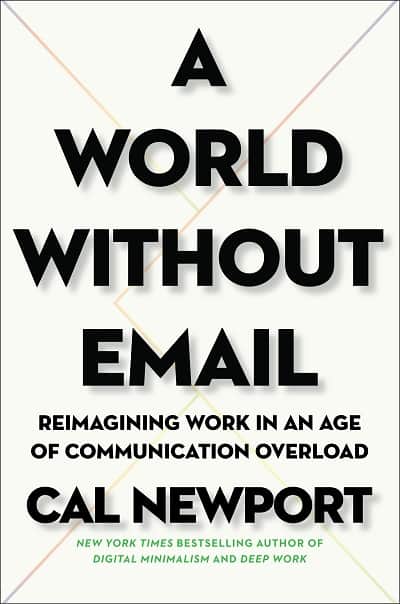 ---